29 Thinking of you Messages - Romantic Poems, Inspiring Quotes
29 Thinking of you Messages - Romantic Poems, Inspiring Quotes
Sometimes and unexpected "I'm thinking of you" message can bring loads of joy and beautiful smiles of the face of someone you love. But instead of writing plain and simple "You're on my mind", you could elaborate, or make it funny, or complicate it with a silly analogy, or say thanks for a recent helpful gesture by a friend. You could be nostalgic and go down the memory lane, or be futuristic and write something to inspire your loved one. A thinking-of-you message could have as many or as few words as you want. Here is an assortment of some sample thinking of you poems, quotes and messages. Choose something you like, send as is, or modify it and craft something unique with love filled thoughts.

Custom Search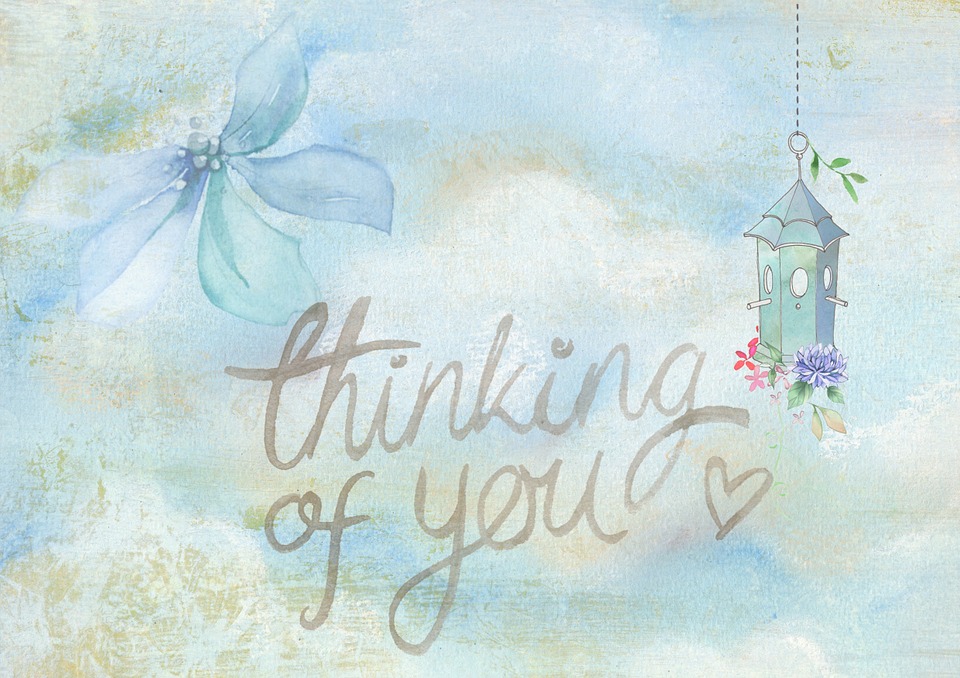 Romantic Thinking of You Messages
Recently, I've discovered a new medicine for tiredness. It's called "Thinking of you". As soon as I use an amazing dose of few moments, I feel refreshed, instantly.
I've been smiling silly since morning and people are laughing at me. And I want you to know that I'm blaming you for this. After all, no matter how hard I try not to make a fool of myself in public, I'm still thinking of you. Do you absolutely have to look so adorable while smiling?
The thoughts of your embrace are keeping me warm. Just wanted you to know that I'm thinking of you.
I looked at my hands and started missing yours. Gosh, this is hopeless, can't even look at myself without thinking of you.
I'm robbed. And don't want the thief to return what s/he's stolen. Do you think I'm crazy? Wait a second. 
This stolen stuff is my heart, and I'm glad to have your thoughts taking all the space in my mind. Thinking of you my adorable thief.
Whenever I think of you, my heart complains of a painful longing to see you again. But that doesn't make me avoid thinking of you. So, saving me from heart ache is up to you actually. Come and meet me. This time and every time I think of you.
Thinking of you is becoming a new favorite pastime. The only problem is, I get so lost, that no multitasking is possible. Well wait a moment, there is one thing I am able to do along with pondering about your mesmerizing eyes. I smile constantly. And thus, entertain people around.
You happen to be constantly on my mind. And yet, my heart forces me to get some exclusive thinking of you moments. Just wanted to let you, this is one of them.
I didn't know falling in love with you will have hidden advantages. I'm never in a bad mood these days. Whenever something happens that threatens to spoil my mood, all I do is think of you. Thinking of you makes me feel so much better.
I always made fun of people thinking too much about one person in particular and looking silly while lost in lovesick thoughts. Now, it's their turn to make fun of me. Thinking of you and enjoying all the teasing.
If I could get to spend one moment with you for each time I think of you, I would be with you for an eternity at least. Thinking of you since what feels like beginning of eternity.
I was reading a quote by Norman Vincent Peale today: "Change your thoughts and you change your world."
Since change is supposed to be a good thing, I keep changing my thoughts.
So, instead of your eyes, I'm thinking about your smile today.
I came across a beautiful quote by Soren Kierkegaard, "Our life always expresses the result of our dominant thoughts." 
Well in that case, nobody should be surprised if I end up spending my life with you. Your smiles would be the perfect expression of my happiness. Thinking of you, and your smiles.
According to Dean Inge, "The soul is dyed with the color of its leisure thoughts." According to me, I think so much of you at leisure and with deliberation, that my soul, my heart and my mind have all become of one shade, the color of you; the color of my love for you.
Funny Thinking of You Messages
Day dreaming was never my cup of tea. But now, with your presence in my life, I can actually go ahead and start selling tea cups. Thinking of you, yet again. 
If I could get a gold coin for each of my thoughts for you, we would have been the wealthiest couple of the world.
Being in love with you has an advantage. I don't have any wayward thoughts, they are all well directed. They are all about you.
They say, it's the thought which matters. These days, I'm thinking too much about you, does that mean I can skip the gift that's due?
If it's the thought which counts, I've enough counters for keeping track of all my heartbeats, and yours for our entire lives.
Dean Koontz says, "Sometimes there is no darker place than our thoughts, the moonless midnight of the mind." Huff. That's why I don't like to think of you. Just kidding, I am thinking of you. And there is moonlight. At least. 
I read a quote today, by William Makepeace Thackeray. "There are a thousand thoughts lying within a man that he does not know till he takes up a pen to write." So, I picked up a pen to write. I've been writing all sort of funny jokes involving you. Okay, I think that's not a flattering way of saying you're often on my mind.
Thinking of you so much, it matters right? How much? Can the due gift be skipped? Ha ha ha
Inspiring Thinking of You Messages
"Nurture your minds with great thoughts. To believe in the heroic makes heroes." ~ Benjamin Disraeli

I always think of you as the hero whose life's challenges are no match for his determination. You will succeed despite of all the hurdles. 
Whenever I'm in dire need of hope and positivity, I think of you. Just wanted to let you know what you stand for in my life. And that I'm thinking of you.
Your incarnation in my thoughts is more frequent and as strong as ever. With that attitude of yours, it's the troubles who should be worried. Thinking about you, and pitying your problems.
Remembering you in prayers in not difficult at all. As soon as I close my eyes, my mind drifts easily towards the most positive souls. Thinking of you as always.
Wishing for some good luck for you. Even half of your positivity and enthusiasm would suffice for anything as difficult as conquering the world. Thinking of you, and wishing you continue just being yourself.
eCard for letting someone know how that "Thinking of you" moments make you feel hopeful and positive
Rhyming Thinking of you Messages
Some Romantic Poems for conveying "You're on my mind"
Mind Ablaze with Thoughts of you
My mind is ablaze… 
With memories quite old,
Imaginations brand new,
But somehow all of them,
Just belong to you.
Needless to say, I love all this
Thinking about you.

Beautiful Secret Place in my Heart
In my heart, deep down there's a secret place,
Where joy and peace, both cuddle and embrace,
Where the land is made of thoughts of just you,
And your soft smiles which are such a treasure,
And the sky is conjured with memories of you,
Decorated with multiple Rainbows of Pleasure,
All colors there are enchanting shades of love, 
Each melody is crafting cupid's armories anew,
I wanted to tell you, I'll be visiting there in few,
And that translates to, I will be thinking of you. 


Why not even a single moment?
A single moment without your thoughts,
Seems impossible to achieve,
Why is that so, I have been really trying,
Extremely hard to perceive,
After many hours of pondering alone,
I finally realized the reason,
Of why is that you seem to dominate,
My thoughts every season,
The gratifying sense of our togetherness,
That is cherish-able as such,
Apart from this pretty significant fact,
That I love you so much,
My heart desperately attempts for a hold,
With a good strong clutch,
On thoughts of your necessary presence, 
The feeling of your touch,
Making your thoughts even more desirable,
Is your attitude for life,
Cheerfulness, positive vibes of your being,
For defeating each strife,
Why wouldn't my heart strive for them, 
They're hope's drops of dew,
Of happiness, of liveliness, of life itself,
Off course I love thoughts of you!


We love Likes and Hearts and Comments
Please do share if you liked the messages, your comments and shares are very encouraging and will help us in improving and posting even better messages. 

Custom Search