Corporate Christmas or Season's Greeting Cards with Christmas Trees
Corporate Christmas or Season's Greeting Cards with Christmas Trees
With Christmas just around the corner, the classy corporate greetings are being searched like crazy by all those who care about this opportunity of connecting with your customers. You might want to express your gratitude for the amazing association you have with your clients, or you could just be wishing to send warmest wishes for the season wrapped in a classy digital or printed greeting branded with your logo and company name. Here is a collection of designs by UV Greetings. These are sample images with watermark, which wouldn't, of course, be there in the final product.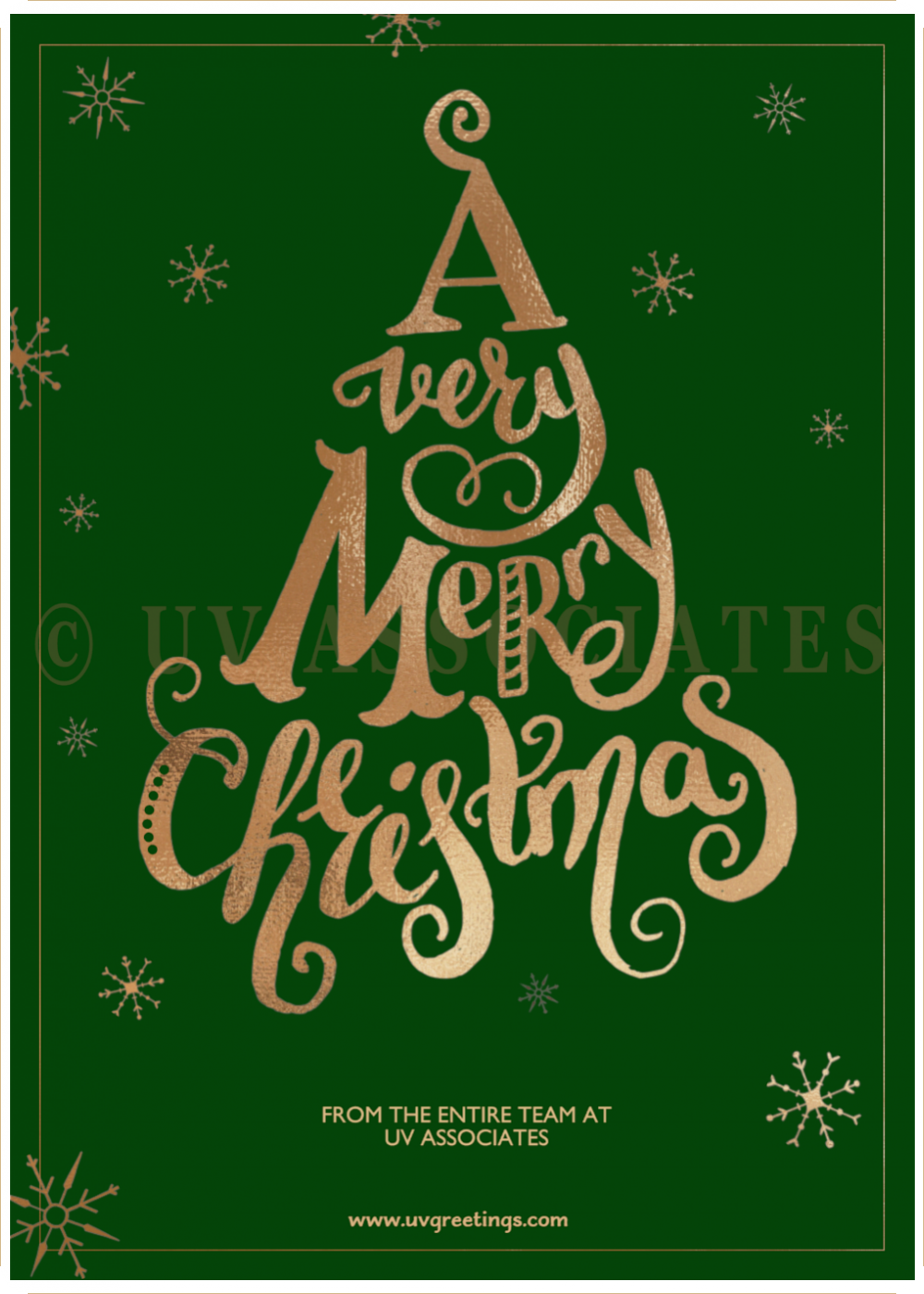 Royal Green & Gold Foil - A Very Merry Christmas Typography
The first Greeting in this collection has a dark royal green background with gold foil typography. The typography creates a beautiful Christmas Tree with letters of the Greeting, "A Very Merry Christmas".  
There are some gold foil snowflakes surrounding the Christmas tree. At the bottom, we can add the Company name, and the logo if desired, although a sample logo is not displayed here. We can do all sort of customizations for color of the background and text as per your requirements. 
At our Zazzle store, from where you can order prints for this card, we have added gold foil snowflakes to the inside right of the card too. 
Colorful Watercolor Snowflakes - White Christmas Tree 
These greetings have a Christmas Tree shaped white space created by colorful water snowflakes. The first one says, Merriest Christmas, while the second one has a different, a formal greeting. (Season's Greetings)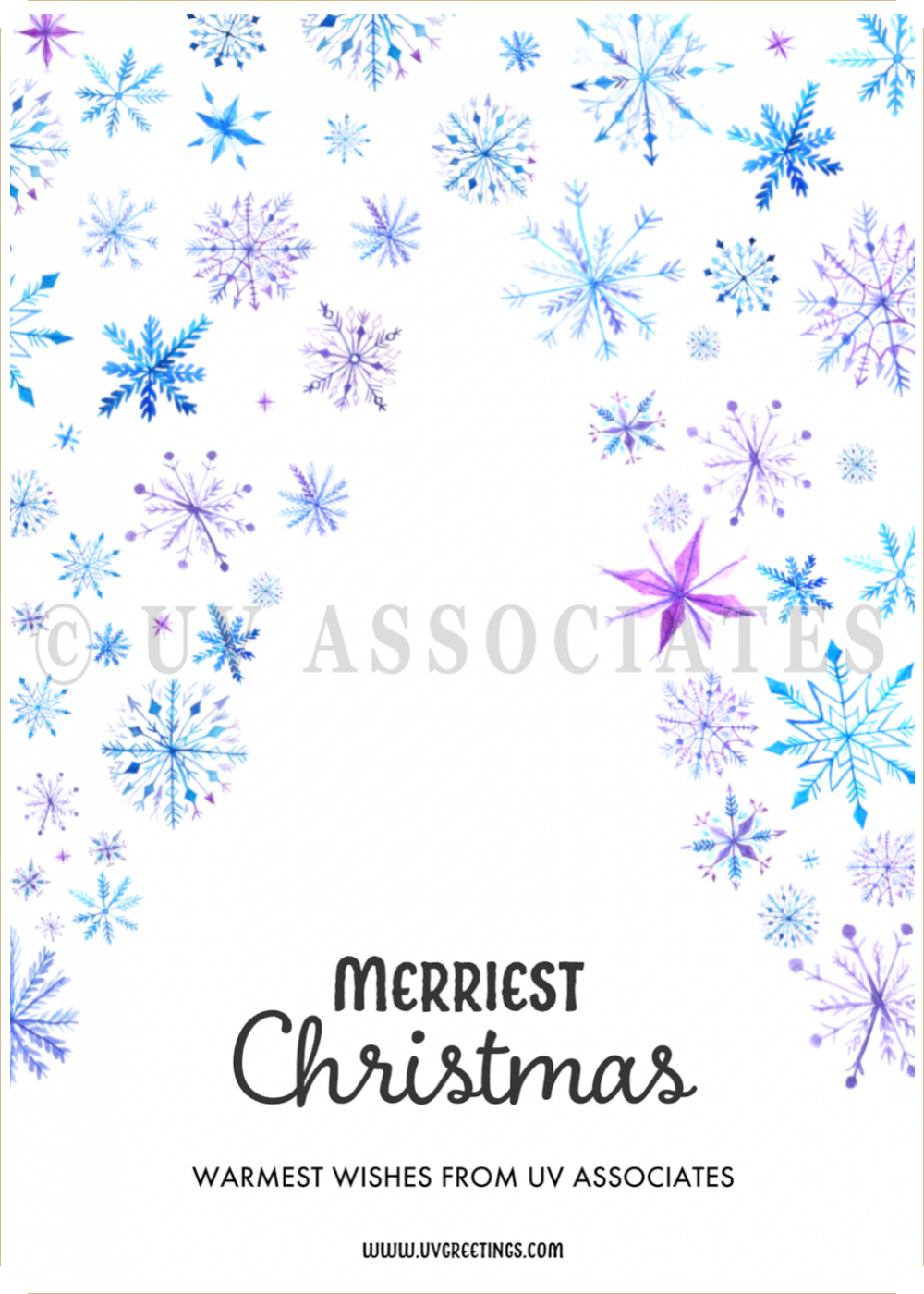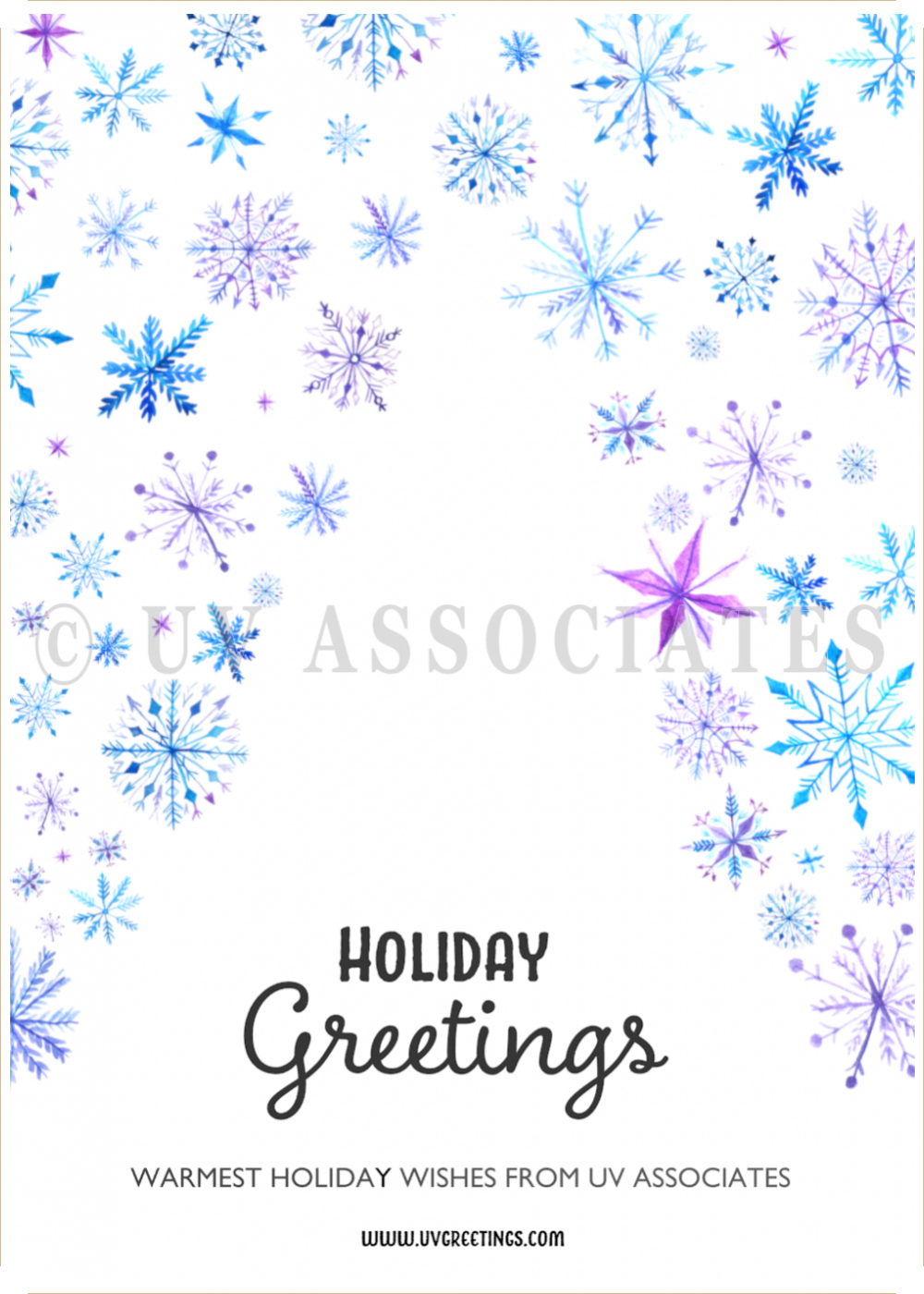 Watercolor Christmas Elements Grid
Some more shades of beautiful watercolor here. The pretty Christmas Elements create a grid in this minimalist but classy Christmas Business Card. Your company name will sit at the bottom with some pretty snowflakes on a red watercolor background strip.

Ah, the joys of Christmas!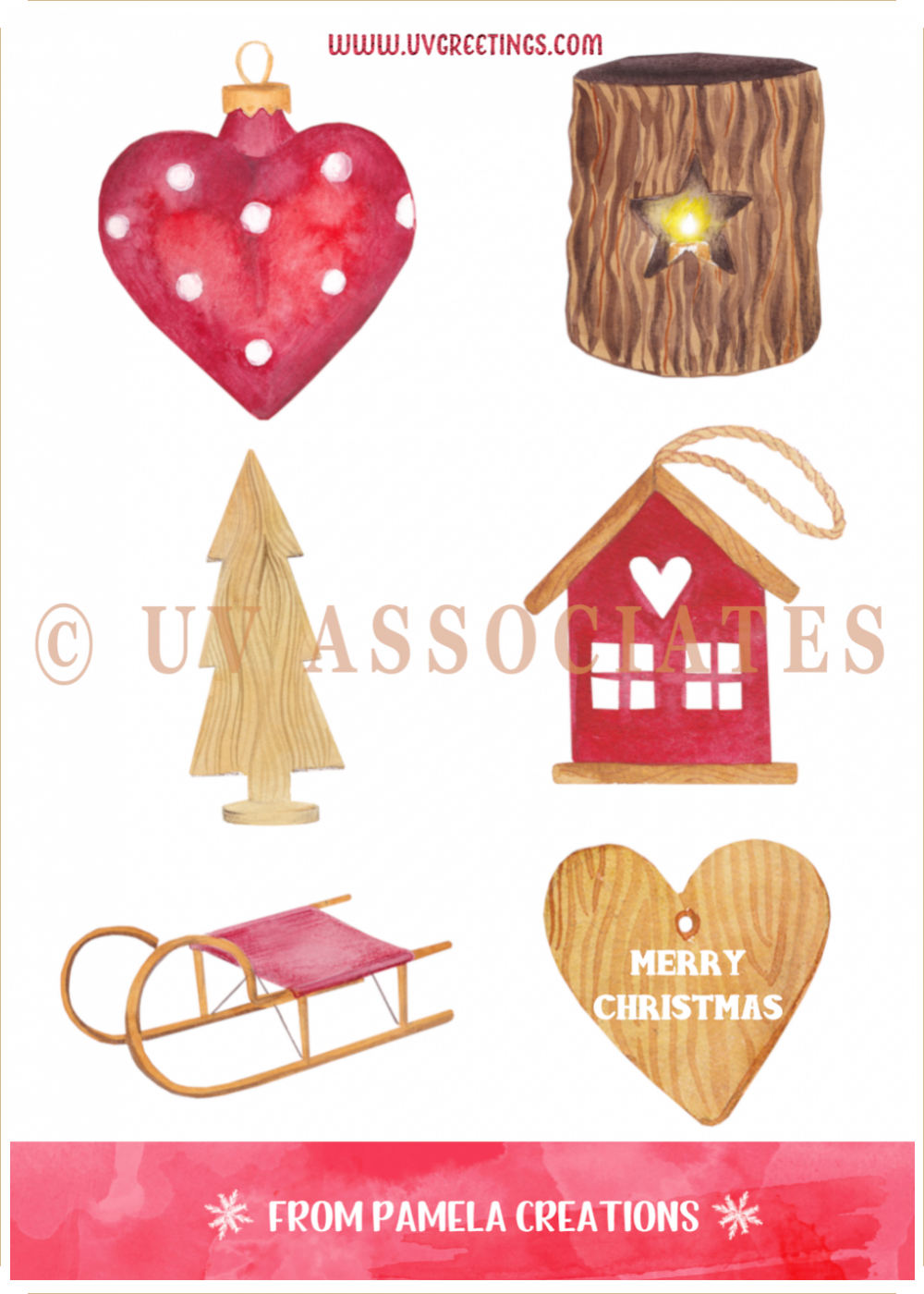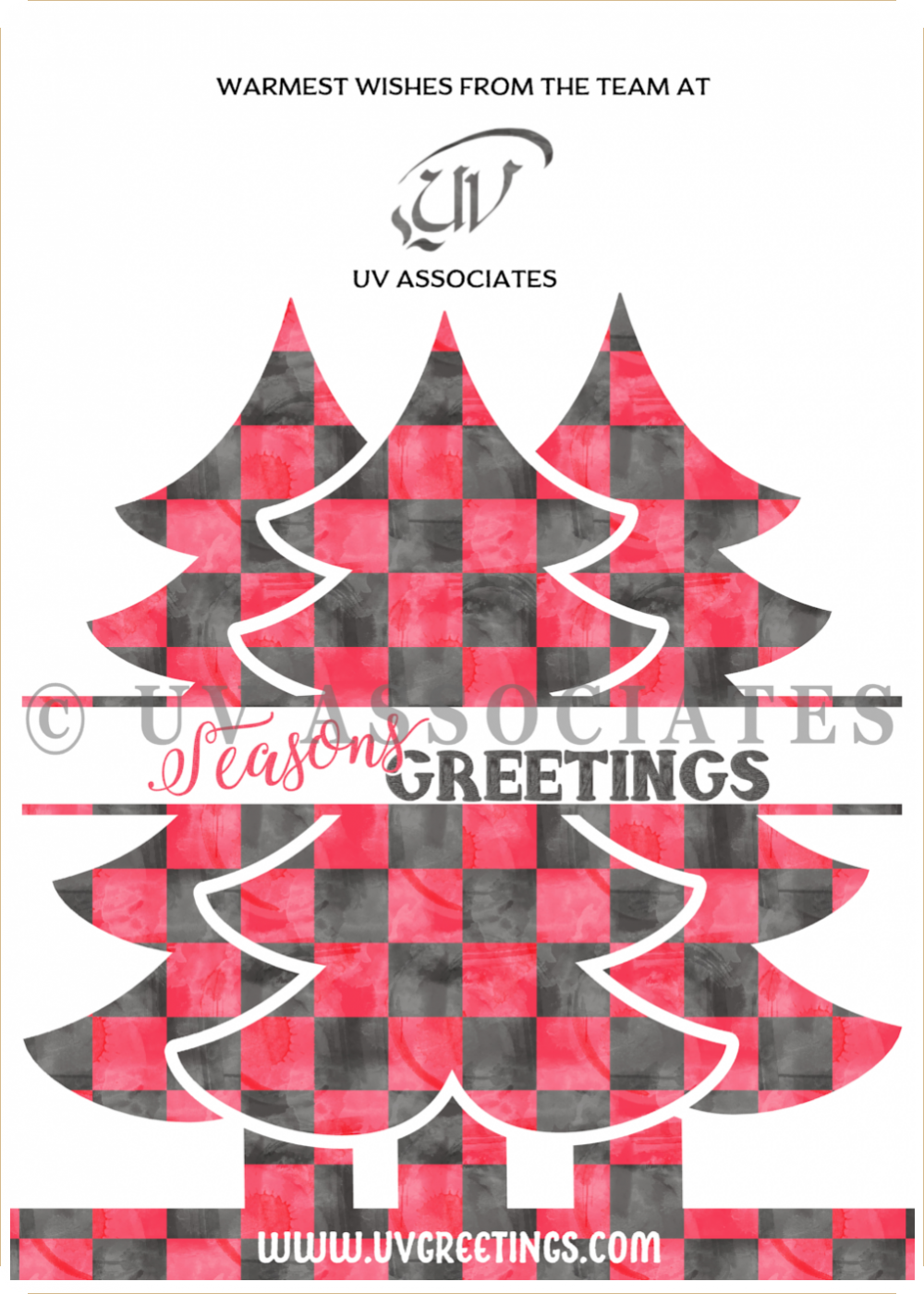 Classic Buffalo Plaid Texture with a Watercolor Twist - Triple Christmas Trees
These Christmas trees have a classic red and black checker texture, but the pattern isn't plain, it's got some watercolor personality. The triple Christmas trees split at the center to create space for your greeting. This one says, Season's Greetings, but we could do a Merry Christmas too. 
Cheers - Calligraphy with Beautiful Swirls
This stylish business greeting uses the beauty of calligraphy. Cheers with swirls and your logo on the dark background will create a memorable effect. Send your warmest wishes with this sparkly Christmas tree on a dark midnight blue background.
How to Get Them Personalized?
If you want to get prints, Check out our store at Zazzle -- Business Christmas Cards by UVGreetings 
To get customizations digitally at a small cost (starting at $2), write to us at uvgreetings@gmail.com
So, have fun, and...
Merry Christmas to you and yours! If you liked these, please don't forget to share with others too.

Custom Search